Archive for February, 2011
Monday, February 28th, 2011
Tags: bikini, surfing, swimsuit
Posted in Uncategorized | 2 Comments »
Monday, February 28th, 2011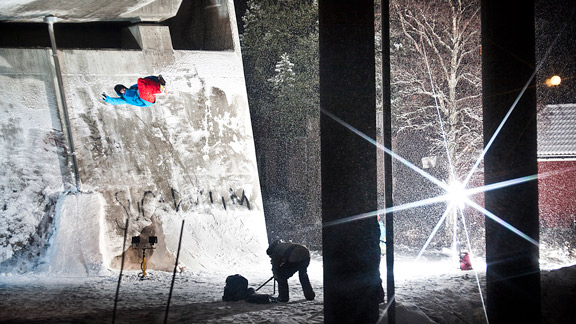 Tags: action sports, bmx, hawaii, ocean, pipeline, skate boarding, snow boarding, surfing, travel, waves
Posted in Uncategorized | No Comments »
Monday, February 28th, 2011
Tags: diving, freediving, mark healey, ocean
Posted in Editorial | No Comments »
Friday, February 25th, 2011
… there was Hucks Splatterson, professional extreme skier (Chuck held the record for both cliff jumping and speed at one point).
As told by Jeff Denholm:  Chuck might not have been the most technical skier, but he was so strong and fearless… he would just throw himself off of anything.  A group of us would be looking off the cornice and checking things out… Chuck would just come flying by at full speed… whoosh!  I remember one time he landed a drop and just impacted into the powder like a cannon ball… everyone started shouting to see if he was OK and then we just saw a hand a pole rise out of the snow.  Chuck landed so hard he split his skis!  But that was just Chuck… he was going.
Expect to see more examples of Chuck's diversity in the near future.  One thing is for sure, SUP, Shark Videos and Wave skis are only the tip of the iceberg that is Mr. Patterson. After a recent trip rekindled the love, Chuck shot some footage for the new Warren Miller film out this fall.  See below for more photos. (more…)
Tags: best sunscreen for skiing, Chuck Patterson, skiing
Posted in Team News | 1 Comment »
Friday, February 25th, 2011
Posted in Uncategorized | No Comments »
Thursday, February 24th, 2011
This video preview was brought to my attention by Dan Gavere.  Although I might not understand the drive to drink Smirnoff Ice out of a shoe, I can appreciate the danger and risk guys like Chris put themselves up against in the search for something great.  A few years ago I lost a highschool classmate to the Deschutes.  The experience opened my eyes to the dangers associated with the profession and put it  up there with big wave riding and back country skiing.  What guys like Dan and Chris do may be crazy, life threatning, dangerous stuff, but it sure is cool as all get-out!  Wouldn't you agree?
[vimeo 20182491]
On that note, I think I'm going to pick up my first white water video…
***
www.watermansappliedscience.com
Tags: best sunscreen for paddling, chris korbulic, dan gavere, fun boat, Kayak, kayaking, white water paddling
Posted in Editorial | No Comments »
Tuesday, February 22nd, 2011

Never satisfied with doing the average thing, such as surfing Pipe while its feathering off the second reef, Mark Healey decided to bust out the 50's style balsa wood gun. Although this big board allowed for early entry, the board did not comply with the bottom dropping out of this particular Pipe bomb.
***
www.watermansappliedscience.com
Tags: best sunscreen for surfing, mark healey, pipeline, surfing
Posted in Editorial, Photos, Team News | No Comments »
Monday, February 21st, 2011

It's an hour after dark, and there's only one car left in the lot. It's the same car that will be the last one in the lot 9 times out of 10.
I'll admit, it's not the best photo ever, but it gets the point across: Rob Rojas is a bad ass.
This is a 90 second exposure, and I popped the flash as Rojas walked by.
Click HERE to view full size
-Bishow
***
Posted in Editorial, Photos, Team News | No Comments »
Friday, February 18th, 2011
While in Hawaii this season I made the longest continuous swim of my career with nothing more than 1 goo packet and a stick of Waterman's face stick in the pocket of my boardshorts…fresh off a flight from the Mainland, I swam out at 7:30 am in macking 2nd reef Pipe and didn't return to the beach until 5:30 that evening…Needless to say I was exhausted and with the worse wet suit rash of all time, but thanks to Waterman's, my face didn't fall off from sunburn!
(more…)
Tags: Bonazi, c.j. hobgood, Daniel Russo, Derek Ho, hawaii, Kalani Chapman, mark healy, Mike Stewart, photography, pipeline, Reef McIntosh, Sion Milosky, water, waves
Posted in Editorial | 1 Comment »
Thursday, February 17th, 2011
Tags: Chuck Patterson, jaws, skiing waves, waterman, watermans, watermansappliedscience.com, wave skiing, wave skis
Posted in Team News | No Comments »